Women's representation in business world

2

min read
Reading Time:
2
minutes
Reading Time:
2
minutes
The data from the Application Trends Survey shows that while overall applications to MBA programs in the United States were down, there was growth or stability in the number of applications from women. Flexible MBA programs saw the highest proportion of female applicants, at 44 percent. Master of Data Analytics programs also saw an increase in female applicants, with 51% of programs reporting growth in applications from women. In general, specialized master's programs saw an overall increase in applications, with most programs reporting growth in applications from women. Oxford University's Saïd Business School has announced that its newest MBA class is nearly gender-balanced, with 48% of the 313-student cohort being women. This is among the highest percentages of women in any non-U.S. MBA program. Only Cambridge Judge Business School, at 47% this year, comes close to Oxford's mark. This is a significant achievement for the school, as historically underrepresented women in MBA programs.
The eighth annual Women in the Workplace report, conducted by McKinsey in partnership with LeanIn.Org, is the most extensive study of women in corporate America. This year's report included information from 333 participating organizations employing more than 12 million people, surveyed more than 40,000 employees, and conducted interviews with women of diverse identities. Women leaders are switching jobs at the highest rates we've ever seen – and at higher rates than men in leadership. That could have profound implications for companies. Women are already significantly underrepresented in leadership. For years, fewer women have risen through the ranks because of the "broken rung" at the first step up to management. Now, companies are struggling to hold onto the relatively few women leaders they have. And all of these dynamics are even more pronounced for women of color.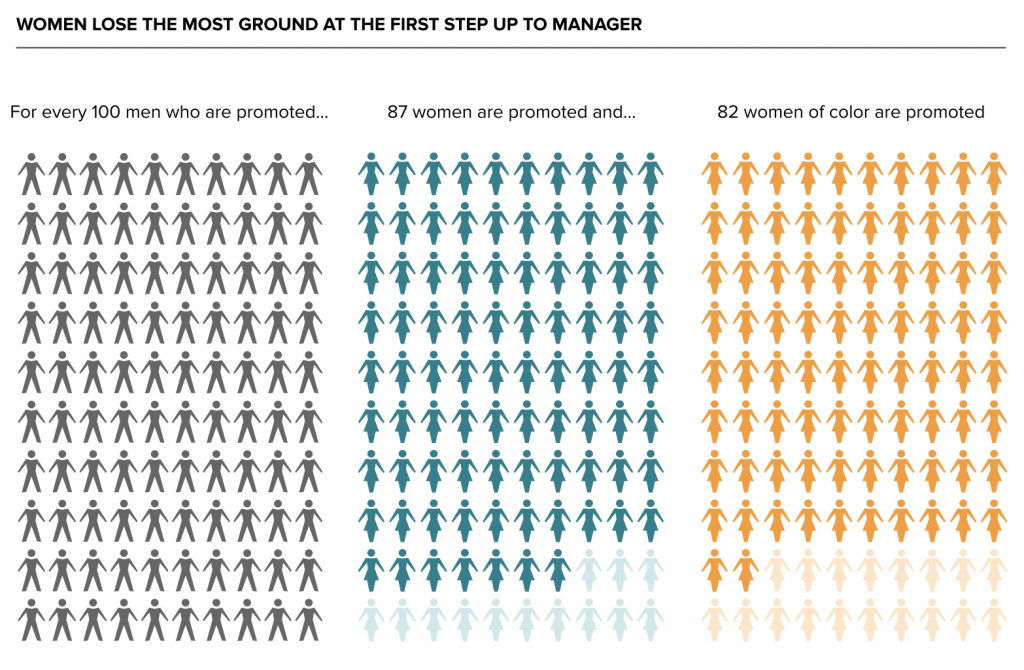 The report found that women – especially women of color – are still dramatically underrepresented in corporate America. And this is especially true in senior leadership: only one in four C-suite leaders is a woman, and only one in 20 is a woman of color.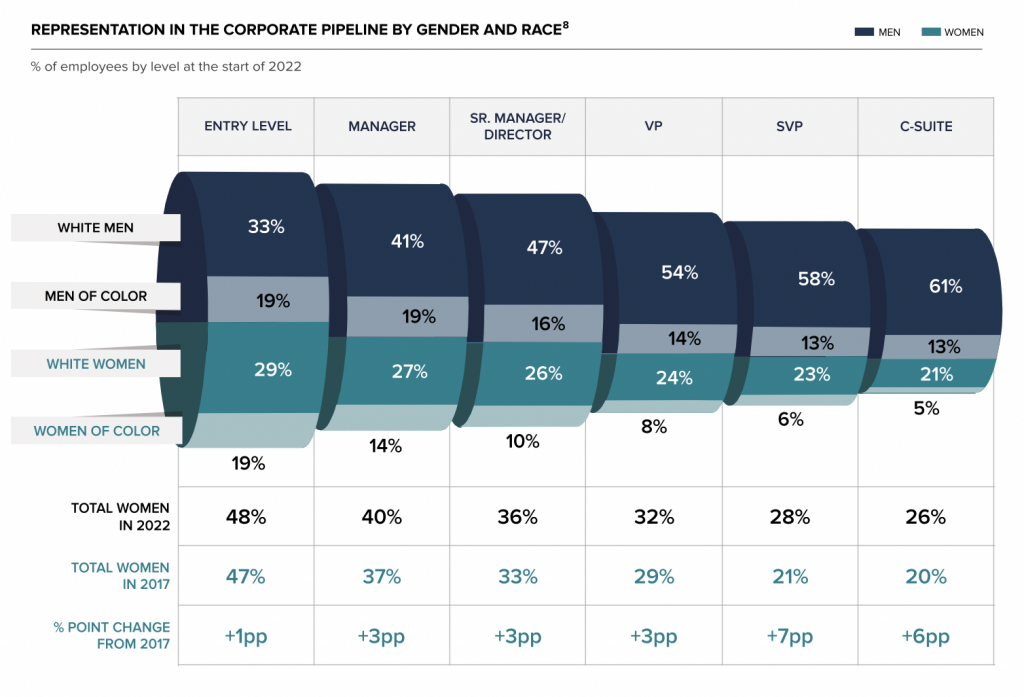 Women leaders are just as ambitious as men, but at many companies, they face headwinds that signal it will be harder to advance. They're more likely to experience belittling microaggressions, such as questioning their judgment or being mistaken for someone more junior. They're doing more to support employee well-being and foster inclusion, but this critical work is spreading them thin and going primarily unrewarded. And finally, it's increasingly important to women leaders that they work for companies that prioritize flexibility, employee well-being, and diversity, equity, and inclusion (DEI). If companies don't take action, they risk losing their current women leaders and the next generation of women leaders. Young women are even more ambitious and place a higher premium on working in an equitable, supportive, and inclusive workplace. They're watching senior women leave for better opportunities, and they're prepared to do the same.