How to develop leadership skills in the reality of a hybrid format?

4

min read
Reading Time:
4
minutes
Reading Time:
4
minutes
During the last three years, the labor market changed a lot: companies shifted to the remote work format, and some of them stayed in a hybrid one, combining remote tasks with meetings in the office. According to a recent Gallup's study, among the US companies they surveyed, 53% are planning to preserve hybrid work and 24% — fully remote mode for the future.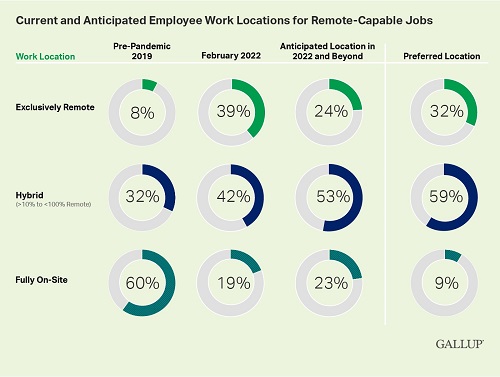 Moreover, changes in the usual way of life influenced not only the employees but the top managers and leaders as well. Benefits Pro published an article containing the fundamental principles of work from the leading positions in the new reality. Leaders are advised to develop their emotional intelligence, build trustworthy relationships, and collaborate inside the company.
To begin with, emotional intelligence and the ability to control emotions are fundamentals of efficient leadership, corporate culture and decision-making, as, when overcome by emotions, people are restricted in their abilities to make the right and weighted decisions. Moreover, communication and meetings outside the office, via online platforms, where each person is in their comfortable place, create stronger ties between employees and help build trustworthy relationships. Finally, using modern platforms allows employees to collaborate, work together, and track progress online.
To follow new principles, it is insufficient to use video conferences and platforms for collaboration; leaders have to change behavior and adapt to the new format. Is it necessary to alter the structure of meetings held online? How to give feedback in hybrid work mode? How to understand what needs to be changed in a company and learn new leadership skills and relationships with a team?
Harvard Business Review published an article written based on the research and an experiment at Harvard Business School (HBS). Researchers from HBS concluded that the leadership skills development model based on the following rule: 70% of the practice, 20% of feedback and 10% of knowledge became old-fashioned in a new reality of hybrid learning. So, they developed a new model of competence development based on three key principles: sense-making, experimenting and self-discovery.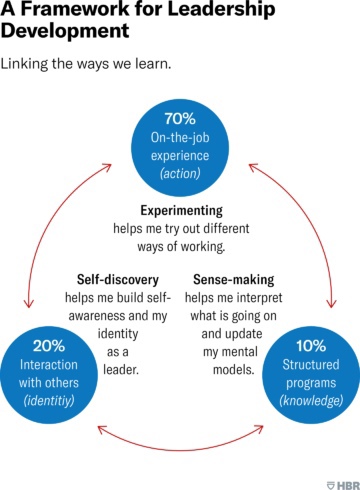 In order to test this new model, HBS decided to alter the structure and format of a leadership program, changing it from a 4-day on campus to 11-week online course. First, during the initial four weeks, virtual sense-making discussions with a group of 20-25 people took place, in which participants shared insights and ideas after the lectures. Due to the online format and decreased costs and logistics, such meetings can be held on a regular basis, but this is not the only advantage. It turned out that more introverted executives started to participate more vividly in online discussions than they did in offline ones. Secondly, leaders were given the opportunity to hold experiments (for instance, change how they give feedback, communicate with customers, or hold meetings with colleagues) in their companies during the program, which helped them apply knowledge in practice and change the working environment. Finally, the element of self-discovering was implemented through coaching sessions in a group of 3-5 people, where participants shared experiences and the results of experiments, which helped them consolidate new leadership skills and reduce the risk of reverting to the old management style.
Such an approach to learning, suggested by HBS, allows leaders to develop their skills more efficiently, understanding how the business and people work through sense-making, testing various ways of management through experiments at work and creating a new managerial identity through self-knowledge.
Numerous studies of brain-based learning and neuroscience help understand how to better form and develop leadership skills. SmartBrief has published an article that provides three tips for shifting from traditional learning to neuroscience-based learning. Firstly, learning must be personalized, i.e., after listening to lectures, managers should know how to apply new information to practice specifically for their company. For example, the HBS executive program can be called personalized, as leaders participate in discussions, share their ideas and conduct experiments in their work environment. Education should also be social, i.e., students should discuss new information and share opinions. Finally, learning should be easy, i.e., the educational program should correspond to the student's position, answer his questions and help solve relevant problems (not those that may appear in the future or appeared in the past).
In conclusion, it is worth noting that educational programs are constantly changing, both in terms of content and teaching methods, making learning more efficient, personalized and practice-oriented. In the current realities of hybrid work, leaders must adapt and change their management style, the way they conduct meetings, and so on. And the best way to build new positive habits at work is to learn new things, giving preference to modern teaching methods.