From trust to triumph: Role of social connection in group success

2

min read
Reading Time:
2
minutes
Reading Time:
2
minutes
Get new insights on how to create great, high-performing teams with the new book "The Social Brain: The Psychology of Successful Groups," published a month ago! Drawing on extensive research and real-world examples, the authors offer explanations on what size groups work and how to shape them according to the nature of the task at hand.
The Social Brain is co-authored by Associate Fellows at Saïd Business School Tracey Camilleri and Samantha Rockey, and Emeritus Professor of Evolutionary Psychology at the University of Oxford Robin Dunbar. Tracey Camilleri and Samantha Rockey are experts in leadership and organizational development and are the founders of leadership consultancy, Thompson Harrison. Robin Dunbar is an expert in neuroscience and psychology, he studies what behavioural, cognitive and neuroendocrinological mechanisms give insights on how humans create large scale societies.
The book starts by outlining The Thrive Model, which is analyzed in detail in further chapters. This model comprises six components of successful group performance and well-being. By representing this model, authors argue that our biology that stands above our seemingly rationalism needs more analysis in order to increase teamwork efficiency, and understand the crucial role that social networks play in everything from business to sports teams to political movements. Throughout, the authors emphasize the importance of trust, communication, and cooperation in fostering successful group outcomes.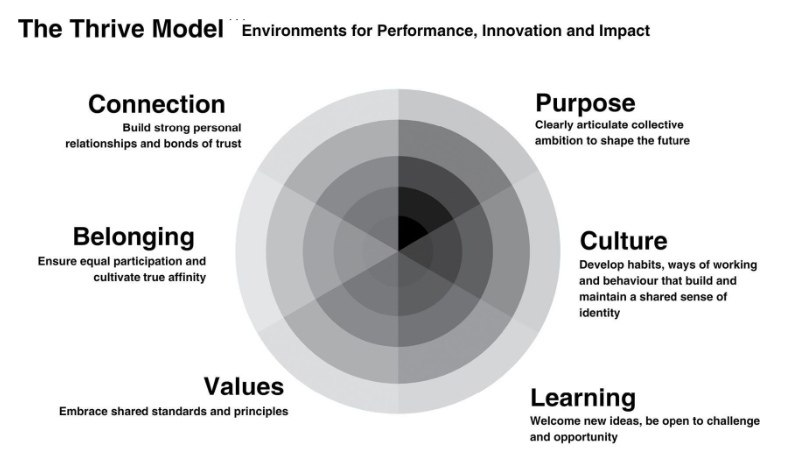 Overall, The Social Brain is an insightful and engaging exploration of the complex interplay between individual psychology and group dynamics. By illuminating the ways in which social bonds can shape our collective achievements, the book offers valuable lessons for anyone interested in building successful teams or fostering positive social change. Whether you are a business leader, community organizer, or simply someone interested in the science of social behavior, this book is well worth a read.